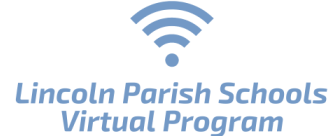 LINCOLN PARISH SCHOOLS VIRTUAL PROGRAM
This virtual learning option is designed for students who do not yet feel safe returning to the classroom. K-12th grade students who choose this option will attend school from home.
Please consider the following details before choosing to participate in this program:
Lincoln Parish Schools Virtual Program will require internet access.

Each student participating in this program will be issued a virtual learning device. This device will be provided at no cost, and students will be responsible for any damages.

Not all courses will be available through this program, for example Ag, Band, Choir.

If a student would like to return to in-class learning, the student will have the option to make this change between the first and second 9 weeks.
Virtual learning is not best for every student. Student placement determinations should take into consideration a student's unique academic, social, emotional, familial, and medical needs of a student, as identified by the student's parent or custodian.